Ridesharing services, like Uber and Lyft, will soon be allowed to pick up riders at Washington's Seattle-Tacoma International Airport.
Seattlepi.com reported the Port of Seattle announced this week it would allow the companies to operate at the airport as part of a one-year pilot program starting March 31. The news comes after months of negotiations between the companies and the port.
Under the agreement, drivers for the ride-hailing companies are required to have vehicles that meet specific environmental standards. Port of Seattle Commission President John Creighton says the requirements are part of efforts to make Sea-Tac "one of the greenest airports in the country."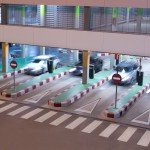 Uber, Lyft and other companies will be charged $5 for every pickup.
Taxis and for-hire companies have opposed allowing the ride-hailing companies access to the airport.
Related:
Copyright 2021 Associated Press. All rights reserved. This material may not be published, broadcast, rewritten or redistributed.
Topics Aviation Sharing Economy Ridesharing Uber
Was this article valuable?
Here are more articles you may enjoy.