Firefighters said Tuesday they expect another average or below-average wildfire season in Colorado in 2016, the third mild year in a row.
"That's always good news," Gov. John Hickenlooper said after announcing the outlook.
But even an average year can bring thousands of wildfires, he said, and a dry spell could make things worse.
The fire outlook is based on computer models that use weather conditions and forecasts, history and other factors.
Colorado enters this season after a wet winter, with the spring snowpack at 90 to 110 percent of average over much of the state Tuesday. South and southwest Colorado were the exception, with the snowpack at 77 to 82 percent.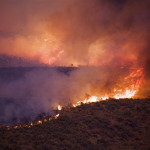 About a quarter of the state is abnormally dry, but none of it is in drought, according to the U.S. Drought Monitor, which tracks conditions nationwide.
The previous two fire seasons were comparatively easy for the state, averaging about 3,600 fires burning a total of about 39 square miles per year.
But Colorado endured more than 4,900 fires on 348 square miles in 2013. They included the Black Forest fire northeast of Colorado Springs, which destroyed 488 homes and killed two people.
In 2012, more than 6,100 fires charred about 666 square miles. The Waldo Canyon fire in Colorado Springs destroyed 344 homes that year and also killed two people.
Related:
Copyright 2021 Associated Press. All rights reserved. This material may not be published, broadcast, rewritten or redistributed.
Was this article valuable?
Here are more articles you may enjoy.