Crews contended with blistering temperatures Monday as they tried to beat back a wildfire that burned rural homes and forced hundreds of evacuations in California's Central Valley, while cooler weather gave firefighters a break as they battled a 10-day-old blaze on the coast.
The newer fire northeast of Fresno damaged some of the 400 homes that were evacuated just outside the Sierra National Forest, but it was not yet clear how many, the California Department of Forestry and Fire Protection said.
A wildfire north of scenic Big Sur near the Central Coast held steady at 62.5 square miles, state fire officials said. Firefighters got help from a low marine layer that brought a spike in humidity and dropped temperatures into the 60s and 70s.
The blaze that broke out July 22 has destroyed 57 homes and is threatening 2,000 additional structures. It was less than 20 percent contained Monday.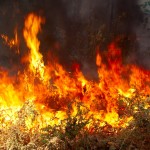 A bulldozer operator working the fire lines was killed last week in a rollover accident in steep, forested ridges.
The fire also has scared away tourists. They are canceling bookings after officials warned that crews will likely be battling the flames for another month.
About 200 miles to the northeast, hundreds of dead trees fueled the central California fire amid triple-digit temperatures and low humidity that was expected to last for several days.
The nearly 3-square-mile blaze started Saturday afternoon in steep, rugged terrain. It was 15 percent contained Monday, Cal Fire said.
Further south, crews had nearly surrounded a 65-square-mile blaze on the outskirts of Los Angeles that killed one man and destroyed 18 homes. It comes 10 days after the fire broke out in suburban Santa Clarita and spread into the mountainous Angeles National Forest, officials said. Authorities have not determined the cause.
Related:
Copyright 2021 Associated Press. All rights reserved. This material may not be published, broadcast, rewritten or redistributed.
Topics California Catastrophe Natural Disasters Wildfire Homeowners
Was this article valuable?
Here are more articles you may enjoy.