Fire officials in southern California say a car driven by a woman high on drugs has sparked several wildfires that so far have burned 450 acres and prompted evacuations.
Authorities say Renee Hogan was arrested Sunday. The California Highway Patrol tells KCRA-TV that Hogan was driving on the right rear rim of her 2002 Kia Rio, which was emitting sparks that caused the blaze.
KCRA reports no buildings have burned, but some people have been forced to leave their homes. Hogan's car was torched by the flames.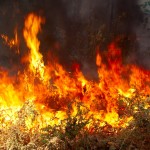 The state Department of Forestry and Fire Protection says it has filed additional charges against Hogan related to the fires.
Related:
Copyright 2021 Associated Press. All rights reserved. This material may not be published, broadcast, rewritten or redistributed.
Topics California Catastrophe Natural Disasters Wildfire Personal Auto Drugs
Was this article valuable?
Here are more articles you may enjoy.