The state's top two labor officials were understandably high on the impact they expect two bills recently signed by Gov. Jerry Brown will have on California's workers' comp system and bad actors who have clogged the lien process and driven up costs.
"I think we're going to make a dent, I really do," said Christine Baker, director of the California Department of Industrial Relations.
Baker was on a panel with David Lanier, secretary of the California Labor & Workforce Development Agency, to give an update on state legislation impacting workers' comp during the annual CWC & Risk Conference on Wednesday.
The three-day conference in Dana Point featured a variety of sessions and exhibitors.
Under California's workers' comp reform law passed in 2012, Senate Bill 863, companies filing liens are required to pay a fee. The thought behind that was to reduce the number of liens filed and get data on who was filing the liens.
Both things have happened, according to Baker and Lanier.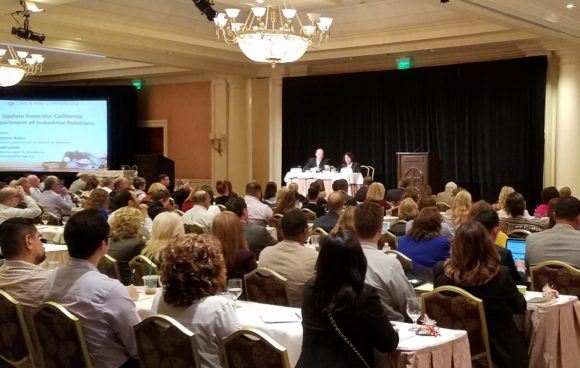 "We have seen a dip in the liens in the past few months," Lanier said, crediting some of that dip to publicity around passage of Senate Bill 1160 and Assembly Bill 1244.
Both Baker and Lanier supported the bills, which make more changes to the lien filing process to prevent bad actors from filing liens, among other things.
Baker also said the state is in the process of putting together a lien consolidation court to vet potentially fraudulent liens.
Liens were also a hot topic along with SB 863, which continues to get overall praise for reducing costs in the system while increasing benefits for injured workers, during an open mic question and answer panel titled "Workers' Comp Insurance Market Trends: CEOs & Stakeholders."
The panel featured Bill Mudge, president of California's Workers' Compensation Insurance Rating Bureau, Danielle Linseby, president and CEO of Broadspire, and Bryan Bogardus, CEO of AF Group. The moderator was Pamela Ferrandino, executive vice president and senior principal in national casualty at Willis Towers Watson.
The panelists talked about SB 1160, which places limitations on the utilization review process, and also would stay any physician or provider lien upon the filing of criminal charges against them for specified offenses involving medical fraud.
Impact projections from the WCIRB shows an estimated reduction in UR costs from SB 1160 but an increase in medical costs.
As a result of the potential savings from both bills, the WCIRB submitted a pure premium rate filing earlier this week to the California Department of Insurance proposing Jan. 1, 2017 that would place advisory pure premium rates lower than the corresponding industry average and less than the average approved rates.
The rates proposed in the amended filing average $2.22 per $100 of payroll. This is 32 cents, or 12.6 percent, less than the corresponding industry average filed pure premium rate of $2.54 as of July 1, 2016 and 10 cents, or 4.3 percent, less than the average approved July 1, 2016 advisory pure premium rate of $2.32.
The other piece of legislation that impacted the WCIRB's filing was AB 1244. The bill is designed remove from the workers' comp system doctors found to have committed a felony or misdemeanor involving fraud or abuse of the Medi-Cal program, Medicare or the workers' comp system itself. The bill would also keep those doctors from filing liens.
According to the Department of Workers' Compensation, 10 percent of liens filed between 2011 and 2015 were filed by providers with fraud indictments or convictions.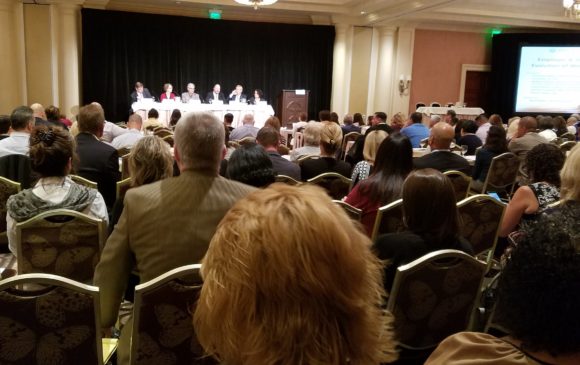 Mudge said the board felt that several aspects of the bills may impact rates.
"We think they all have real potential effect," Mudge said.
The panelists also heaped praise on SB 863.
Bogardus said he's been through a few reforms to California's workers' comp system over the years, but with SB 863 he's seen that "some things are different."
"All-in-all we have viewed SB 863 as a positive," Bogardus said.
Senate Bill 863 included a number of provisions to reduce costs by reducing the volume of lien claims and lien claim litigation in the workers' comp system, including the reestablishment of lien filing fees to preclude frivolous lien filings, creation of an independent bill review and restrictions on the ability of third parties to collect on assigned lien claims.
Mudge also praised changes brought in with the reforms.
Still Mudge, who a few times during the panel mentioned that there were "storm clouds and silver linings" to be found among the ongoing changes California has made to its workers' comp system, said the state still has by far the highest loss adjustment expense ratio at more than 10 percentage points greater than the second highest state, and almost twice the nationwide median.
Among the reasons for the high LAE are a greater-than-average proportion of permanent disability claims, high litigation rates, particularly in the Los Angeles Basin area, and a large number of active liens, according to a recent WCIRB analysis.
The panelists also discussed concerns over drug costs.
Linseby said that at Broadspire, a large third-party administrator owned by Crawford & Co., they have been keeping a cautious eye on growing drug costs.
"Pharmacy is expected to grow 6.7 percent each year through 2025," Linseby said.
Mudge acknowledged concerns over drug costs, but said the trend in California has gone down recently.
In California the pharmacy spend is down from roughly 9 percent in 2014 to 7 percent currently, according to Mudge.
However, in the long-term, drugs have been and will likely continue to be a drag on the workers' comp system, Mudge added.
"For claims that last 10 or more years, drugs account for 37 percent of these claims going forward," he said.
The panelists also discussed the need for improved data gathering and usage.
"We need improved predictability of the cost," Bogardus said.
Linseby agreed.
"We can do a better job of capturing data points," Linseby said.
Mudge believes that improving data analytics and the gathering of more data will help improve efficiency in system, especially by weeding out criminals.
"Bad actors in the system are finding it harder and harder to hide," he said. "We collect about 40 million medical transactions a year."
A morning session titled "Employer & Stakeholder Panel, Evolution of Workers' Comp & Risk," was moderated by Mark Walls, vice president of communications and strategic analysis at Safety National.
The panelists were: Baker; Lisa Kelly, senior manager of workers' comp for the Boeing Co.; William Zachry, formerly with Albertsons/Safeway and a board member of the California State Compensation Insurance & Self Insured Funds; David North, CEO of Segwick Claims Management Services; Roman Kownacki, medical director of regional occupational therapy for The Permanente Medical Group Inc.; and Robert Rassp, an attorney and author.
These panelists also praised aspects of SB 863 and said the reforms have reduced costs in the system. However, one criticism panelists did offer of the system overall was that the lines of communication between the system itself and workers must be improved.
Zachry noted that injured workers are burdened with excessively large amounts of information, with documents up to 180-pages long.
"We really do need to think about how we communicate with injured workers," he said.
Zachry suggested communiques should be able to fit on a text message, with the option for recipients to read more if they want.
Baker agreed that communication should be improved.
"We can do a little better on communication," she said, but added that the DIR and the DWC are in the process of making improvements. "There are things that we are changing."
Drugs, especially opioids, were a concern expressed by Zachry and other panelists.
"I think the opioid epidemic is far larger and far broader than anybody realizes," Zachry said, adding that he believes this will drive costs in the system.
Walls got panelists to tackle the feelings on the impact on workers' comp from changes unfolding in the working world, such as the new sharing economy, with the question: "Do you think workers' comp is still relevant and meets the needs of today's workforce?"
"I think it's time to rethink it," Baker said.
North, who agreed that a dialogue needs to be started, believes that talk around changing workers' comp will start to kick up after the upcoming election.
"I think you're going to see heightened conversation about workers' comp in '17 and '18," North said.
Rassp said the worker's system has evolved in the last 100-plus years it's been in existence, and will continue to do so, but it will need help.
"I think that the policymakers in the state have to agree about what works and doesn't work and take it to a broader community," he said.
Related:
Was this article valuable?
Here are more articles you may enjoy.