How legalized marijuana and President-elect Donald Trump will affect the insurance industry, a possible merger of the nation's two major excess and surplus lines organizations, renewing the National Flood Insurance Protection Program, California laws expected for 2017, incremental insurance.
There was no shortage of topics at the annual California Insurance Wholesalers Association conference in La Jolla on Thursday.
The three-day CIWA conference ends Friday, and has drawn several hundred excess and surplus lines professionals to talk about the industry and how it will be shaped this year and beyond.
Thursday's conference was kicked off by John Norwood with Norwood & Associates, who offered a look what's expected from the 2017 California legislative session.
One of the biggest direct impacts on the E&S industry could come from a proposed merger of the American Association of Managing General Agents and the National Association of Professional Surplus Lines Offices, which have formed a joint committee to explore the idea.
AAMGA Executive Director Bernie Heinze and NAPSLO Executive Director Brady Kelley both said merger talks are moving along.
Heinze said a proposal is expected to be put forward in February and a vote to dissolve AAMGA and merge it with NAPSLO could be taken as soon as the summer.
"We've all realized that this is a member-driven marketplace," Heinze said.
Kelley spoke highly of the proposed merger.
"I think there are tremendous benefits in doing this," Kelley said.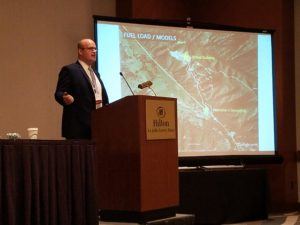 Those benefits include reducing the number of annual conferences from three to two, building a more powerful advocacy organization and combining the two group's special training capabilities.
The two spoke on a luncheon panel moderated by Hank Haldeman, executive vice president and director with The Sullivan Group in Los Angeles and past president of NAPSLO. Also on the panel was Joy Erven with the Surplus Lines Association of California.
Haldeman steered the group around myriad topics, including the NFIP and whether Congress would take another crack at a private flood insurance bill this year.
The Flood Insurance Market Parity and Modernization Act (H.R. 2901) didn't pass last year, but the plans are to reintroduce it this year, Kelley said.
"We have another opportunity I think to get this bill reintroduced," he said.
Just how legalized marijuana in California will affect the insurance marketplace was another topic Haldeman passed around for consideration by panelists.
"This is going to be a very interesting year for California in terms of emerging issues, particularly marijuana," Erven said.
Since products, property, errors and omissions and any number of specialty coverages will be needed for marijuana suppliers and retailers, Erven believes the surplus industry will be called upon to help.
"We expect to see a sharp uptick in the policies that are written," she said.
The results of a 2016 report commissioned by NAPSLO were also discussed by panelists.
NAPSLO retained Conning Inc. to conduct an analysis of the relative non-loss costs of commercial insurance policies distributed through wholesale brokerage channels as compared to retail brokerage channels.
Despite the belief by some that bringing a surplus broker into a transaction adds costs, Haldeman noted that the report showed wholesale costs actually came back lower.
Brady added that the report showed the value of wholesale distribution.
"It came back a full 1 percent lower," he said of the cost comparison between surplus and wholesale. "It's a very cost-effective distribution model."
Haldeman also asked panelists what they think will happen to the Federal Insurance Office with the incoming Trump administration.
Heinze said he heard along the grapevine that with a new U.S. Treasury Secretary coming in the office we may see a reduction in powers.
"The word we're hearing is that they're going to have their wings clipped," Heinze said.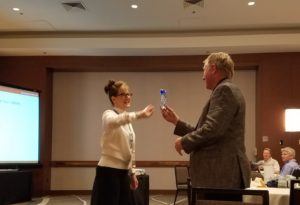 During an earlier session titled "Digital Marketing Tools & Best Practices," Anita Nevins with Direct Connection Advertising & Marketing, talked about how technology and trends are changing business-to-business engagement.
"Differentiation is key," she advised.
She encouraged those in the audience to get away from doing things the same way and to figure out what their business does best and promote that.
She hit on best practices for blogging, email marketing, advertorials, video and of course social media.
"Your best success for your digital marketing plan is to have a presence on all the platforms," she said.
Chris Beston with General Reinsurance Corp. gave a talk titled "Wildfire: Fueling an Underwriting Approach."
One of Beston's main messages was that wildfires don't just occur in sunny California.
"One of the big biases for wildfires is that it's a California issue only," he said. "We're leaving ourselves exposed in other parts of the country."
He pointed to large losses in the South in 2016, including several costly wildfires last year in Tennessee, to back up his assertion.
According to his research, of the 5 million acres that burnt in wildfires in 2016, California accounted for roughly 540,000 acres.
He said there are two emerging problems that may make wildfires more potentially deadly and costly: building the wildland-urban interface and climate change.
"People are moving and businesses are moving to places they haven't been before," he said.
Also not helping is continuous record breaking warm years.
"Global warming's certainly not helping out," he said, adding that a warmer climate that has brought us longer fire seasons is creating more risk. "We're seeing fires now almost the entire year."
The conference ends Friday with the CIWA Cup Golf Tournament Meet at Torrey Pines Golf Course, and a gala reception and dinner.
Related:
Topics Cannabis
Was this article valuable?
Here are more articles you may enjoy.