California Commissioner Dave Jones announced on Wednesday that total of insured losses from the wildfires in California in October now top $9.4 billion in residential and commercial claims.
The latest figure is near the upper end of estimates given so far on losses from the wildfires, which are now counted among the most deadly and costly in the state's history.
Modeler AIR Worldwide reported last month they expect losses from the Tubbs, Nuns, Atlas, Redwood, and Sulphur fires alone will be between $8 billion and $10.5 billion.
The latest report is the result of a formal data call in which more than 260 insurers reported their total claims as of Dec. 1 and includes the destruction and damage for more than 21,000 homes, 2,800 businesses, and more than 6,100 private autos, commercial vehicles, and 788 losses involving other lines of insurance such as agricultural equipment and watercraft, according to the California Department of Insurance.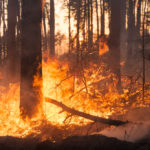 "These numbers not only represent staggering losses to tens of thousands of Californians," Jones said in a statement. "The October wildfires that devastated whole communities and tragically cost 44 people their lives have now proven to be the most destructive and deadliest in our state's history."
On Dec. 9 the CDI plans to host an Insurance Recovery Workshop for North Bay residents at the Glaser Center-Unitarian Universalist Church in Santa Rosa from 10 a.m. to 4 p.m. The workshop will include department experts and insurers to provide wildfire victims with one-on-one assistance with their specific insurance claim questions.
Related:
Topics California Catastrophe Natural Disasters Claims Wildfire
Was this article valuable?
Here are more articles you may enjoy.