Loss estimates for the October California wildfire siege could reach up to $10.5 billion, according to catastrophe modeling firm AIR Worldwide.
Boston, Mass.-based AIR on Thursday updated its loss estimates for the recent wildfires after analyzing findings from its damage survey conducted during the week of October 30, along with new information about policy terms and a re-examination of the replacement values of high-value homes within its industry exposure database.
AIR now estimates that insured losses from the Tubbs, Nuns, Atlas, Redwood, and Sulphur fires in California will be between $8 billion and $10.5 billion.
The top end of that range constitutes the highest estimates yet. Aon Benfield earlier this week estimated losses could lead to as much as $8 billion in insured losses. The California Department of Insurance at the end of October reported more than $3.3 billion in losses had already been confirmed by the state's largest insurers.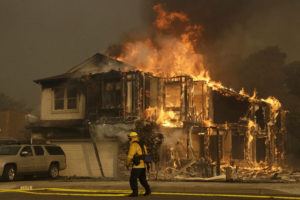 AIR loss estimates represent damage to residential, mobile home, commercial, and automobile lines of business, as well as direct business interruption losses. Those losses include demand surge (increases in rebuild costs that result from shortages of labor and materials), but do not contemplate extra expenses such as debris removal, according to AIR.
Uncertainty remains regarding losses to vineyards and wineries, and AIR said that while it does not expect losses to wineries and vineyards to constitute the major part of the losses from the fires, it may be that the value of the equipment, machinery, and inventory at the wineries may exceed the contents values contemplated in AIR's database.
Related:
Topics Catastrophe California Natural Disasters Profit Loss Wildfire
Was this article valuable?
Here are more articles you may enjoy.