No U.S. reinsurance companies in Fitch Rating's rated universe are expected to be downgraded as a result of losses from the California wildfires alone, but for a number of companies the impact of wildfire losses adds to substantial catastrophe losses reported in third-quarter 2017, according to Fitch.
Adding the California wildfires to hurricanes Harvey, Irma and Maria will make 2017 one of the costliest catastrophe loss years in U.S. history, with insured losses reaching $70 billion to $100 billion according to various estimates. In some instances, insurers could ultimately report aggregate 2017 catastrophe losses at levels that strain capital and pressure ratings, according to Fitch.
The October California wildfires will be the costliest wildfire loss in U.S. history. The latest insured loss estimate from Aon Benfield is $8 billion, but the overall economic losses are considerably greater. The latest reports on losses from the wildfires includes 43 fatalities with nearly 9,000 structures destroyed. To date, the California Department of Insurance reported 19,000 residential, commercial and auto claims have been filed, with payouts exceeding $3.3 billion.
"The expected loss from the October wildfires will eclipse past California wildfires by several fold," Fitch reported. "In comparison, the 1991 Oakland Hills wildfire reported a $2.7 billion loss (inflation adjusted through 2016) from 25 deaths and 2,900 structures destroyed. Last year's wildfire in Fort McMurray was Canada's largest wildfire, spreading across 1.15 million acres, destroying approximately 2,400 homes and buildings and generating $3.7 billion in insured losses."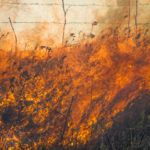 The majority of insured losses from the California wildfires are expected to be in the personal lines segments, as a significant number of the structures destroyed were residential properties. Of the reported losses paid by the top-15 property writers in California, more than 94 percent have been for residential property, according to Fitch.
"Fitch expects a large majority of the insured losses to be retained by primary insurers," Fitch stated. "The percentage of losses ceded to the reinsurance market will likely be considerably less than the portion ceded from recent hurricane events. Hurricane Irma also had a large flood loss component that increases the percentage of losses incurred by the National Flood Insurance Program and commercial insurers."
Several large property/casualty insurers have publicly discussed estimates of their net losses related to the wildfires and the associated impact on fourth-quarter earnings.
The Travelers Companies Inc. provided a range of $525 million to $675 million before tax, American International Group Inc. reported in its third-quarter earnings call that it expected fire losses of roughly $500 million, and the Allstate Corp. reported estimated catastrophe losses of $516 million before tax with California wildfires accounting for 90 percent of this total.
Related:
Topics Carriers California Catastrophe USA Profit Loss Wildfire
Was this article valuable?
Here are more articles you may enjoy.