Edison International's Southern California Edison was blamed in a lawsuit for three wildfires that destroyed more than 1,000 buildings and killed a firefighter last month in the Los Angeles area.
While no official findings about the cause of the fires in Los Angeles, Santa Barbara and Ventura counties have been announced, six people who suffered property losses amid hundreds of thousands of acres that were scorched claim the blazes were ignited by sparks from the utility's power lines or electrical infrastructure.
"The fires were not an 'Act of God' but were caused by the intentional, negligent and wrongful conduct of SCE and other defendants," according to the class-action complaint filed last week in state court in Los Angeles.
Among the claims in the suit is one under the California law of inverse condemnation that could hold the company responsible for damages, even if it isn't found negligent. PG&E Corp. is fighting similar claims in more than 100 suits filed by property owners and others affected by fires in Northern California's wine country that burned more than 245,000 acres in October.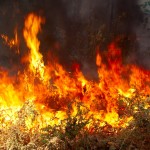 "Southern California Edison is unable to comment on pending lawsuits due to the Cal Fire investigation now underway," the company said in a statement.
After a $6 Billion Wipeout, Wildfires Still Imperil PG&E
Edison International fell as much as 1.5 percent on Tuesday, the most since Dec. 28. The company's shares have dropped 21 percent since the outbreak of the Thomas fire in Southern California amid investor concerns that the utility-owner may be liable for damages tied to the blaze. Last month, Edison said it believed its power equipment is being probed as a possible cause of the Thomas fire.
The case is Vitullo v. Southern California Edison, B688977, California Superior Court, Los Angeles County.
Related:
Copyright 2021 Bloomberg.
Topics Lawsuits California Catastrophe Natural Disasters Wildfire
Was this article valuable?
Here are more articles you may enjoy.