Lawmakers in the Wyoming House have voted down a bill that would have meant prison time for drivers who cause a deadly wreck while texting on their phones.
Texting while driving in Wyoming currently is a misdemeanor punishable by a fine up to $75.
A bill sponsored by representatives including Hans Hunt, of Newcastle, would have allowed up to 20 years in prison for drivers who cause a deadly texting crash. Hunt said Friday a texting driver who crashed in northeast Wyoming recently badly hurt two men who were helping another motorist.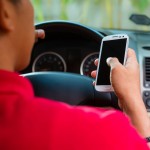 Other lawmakers questioned whether the bill was necessary.
The bill failed with two-thirds of the House voting no. The bill needed a two-thirds majority to be introduced for further discussion.
Copyright 2022 Associated Press. All rights reserved. This material may not be published, broadcast, rewritten or redistributed.
Topics Personal Auto
Was this article valuable?
Here are more articles you may enjoy.