Thousands fled their homes as major wildfires encroached on a charred area of Northern California still recovering from severe blazes in recent years, sparking concern the state may be in for another destructive series of wildfires this summer.
California officials said unusually hot weather, high winds and highly flammable vegetation turned brittle by drought helped fuel the fires that began over the weekend, the same conditions that led to the state's deadliest and most destructive fire year in 2017.
Gov. Jerry Brown on Monday declared a state of emergency in Lake County, where the biggest fire was raging about 120 miles north of San Francisco, a rural region particularly hard-hit by fires in recent years. The declaration will enable officials to receive more state resources to fight the fire and for recovery.
Jim Steele, an elected supervisor, said the county is impoverished and its fire-fighting equipment antiquated. He also said the county has just a few roads into and out of the region, which can hinder response time. Steele said the area has also been susceptible to fire for many decades because dense brush and trees in the sparsely populated area, but the severity of the latest blazes is unexpected.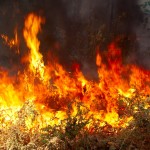 "What's happened with the more warming climate is we get low humidity and higher winds and then when we get a fire that's worse than it's been in those 50 years," Steele said.
The fire that broke out Saturday evening has forced 3,000 residents from their homes and destroyed at least 22 buildings. It is the latest devastating blaze to rip through the isolated and impoverished county of just 65,000 people in the last few years.
In 2015, a series of fires destroyed 2,000 buildings and killed four people.
The following year, an arsonist started a fire that wiped out 300 buildings.
Last year, the county was among those ravaged by a string of fires that ripped through Northern California wine country. The fires in that area and in Southern California were among the reasons that Aon Benfield reported a jump in insured losses for natural catastrophes. Last year's 330 natural catastrophes reached US$134 billion, according to Aon,
Fire Battalion Chief Jonathan Cox said more than 230 firefighters were battling the Lake County fire in a rugged area that made it difficult to get equipment close the blaze.
A forestry scientist says it's difficult to forecast how severe California's wildfires will be this year, but said the drought-dried vegetation throughout the state is a bad omen.
"You have a lot of grass and its dry and that's cause for concern," said Keith Gilless, the dean of the University of California, Berkeley's department of environmental science.
Last year, California's costliest fires killed 44 people and tore through the state's wine country in October, causing an estimated $10 billion in damage.
Copyright 2021 Associated Press. All rights reserved. This material may not be published, broadcast, rewritten or redistributed.
Was this article valuable?
Here are more articles you may enjoy.