California is finalizing the details of a plan that could let PG&E Corp. issue bonds to cover potential damages from wildfires that destroyed thousands of homes last year.
The details are still being worked out, and a proposal may be issued by Tuesday night, state Senator Bill Dodd said Monday. It's part of a comprehensive wildfire bill that a state conference committee is evaluating now and that lawmakers are seeking to complete before the legislative session ends Aug. 31.
The securitization plan would help PG&E, which is exposed to billions in damages from last year's wildfires. However, lawmakers have abandoned an effort to change state liability laws that say property owners can collect compensation from utilities linked to fires even if they weren't negligent. State investigators have said PG&E equipment caused 16 of last year's fires.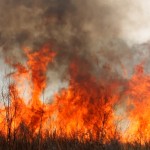 "One of the major goals is to make sure our utilities are financially healthy," said Dodd, a Democrat, who is co-chair of the conference committee.
The committee is developing legislation to address the growing threat of wildfires, which officials say are getting worse due to climate change. The final bill may address issues including strengthening the power grid, fire suppression practices and forest health. Dodd said that Governor Jerry Brown had asked lawmakers to consider a broad range of topics, and Dodd announced over the weekend they wouldn't have time to consider some topics including the liability law, known as "inverse condemnation."
"A legislative fix to wildfire liability issues is now in question," Greg Gordon, a utility analyst for Evercore ISI, wrote in a note Monday.
Shares of PG&E slipped 0.8 percent to $44.90 at 1:26 p.m. in New York, after earlier dropping as much as 4 percent. Edison was down 0.6 percent, after sliding as much as 2.2 percent.
Investors would be receptive to the idea of issuing bonds backed by customer bills to cover damages from the wildfires in Northern California wine country, according to Julien Dumoulin-Smith, an analyst for Bank of America Merrill Lynch.
PG&E, the state's biggest utility owner, has spent months lobbying lawmakers to change the liability policy. Brown has been sympathetic, proposing a bill that would require the courts to consider whether a utility acted "reasonably" when deciding whether to impose damages. PG&E could face as much as $17 billion in liabilities for the 2017 fires, according to JPMorgan Chase & Co.
Related:
Copyright 2020 Bloomberg.
Was this article valuable?
Here are more articles you may enjoy.