Farmers Insurance expects $2.1 billion in claims from the California wildfires in November.
The Los Angeles, Calif.-based carrier said it has so far received more than 9,000 claims combined for the Camp Fire in Northern California and the Woolsey Fire in Southern California.
The Camp Fire is estimated to have burned roughly 153,000 acres, resulting in 88 deaths and the destruction of 8,793 structures, including 13,696 single-family homems, 276 apartment buildings, and 528 commercial buildings. The Woolsey Fire burned 96,949 acres, and destroyed 1,500 structures.
Industry data provider CoreLogic last week said total losses from the wildfires in Northern and Southern California could reach from $15 billion to $19 billion, while losses alone from the Camp Fire, the most destructive and deadliest wildfire in the state's history, are estimated to be between $11 billion and $13 billion.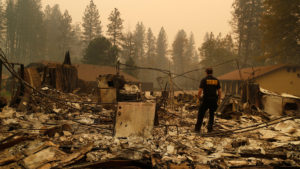 Losses from the fires will likely be concentrated among insurers with high exposures in the fire areas, including State Farm, Farmers, CSAA, Auto Club, Liberty Mutual and Allstate, according to information from SNL Financial and Moody's.
Farmers spokesman Luis Sahagun said the company is well-positioned to weather the losses from the fires.
"Farmers Insurance has received more than 9,000 claims from the Camp and Woolsey wildfires to date at an estimated gross cost of $2.1 billion in total for both events, and a net result after reinsurance and tax of $159 million," Sahagun said.
Figures on losses may be coming in from the Camp Fire for some time.
Nancy Kincaid, a spokeswoman for the California Department of Insurance, said CalFire just last week cleared insurers to begin entering areas burned by the Camp Fire.
"Our detectives started escorting insurers to the properties Thursday afternoon," she said.
Any estimates already released by insurers were made possible by their use of drones to survey damages, she added.
Kincaid said the CDI is still working to compile losses being tallied by insurers and plans to release that information to the public in the near future.
State Farm has already reportedly paid $77.2 million in homeowners claims from the Camp Fire in Northern California.
"Additionally, we have paid approximately $6.7 million in auto claims from the Camp Fire," said Michal Brower, a spokesman for State Farm.
State Farm has paid roughly $25 million in homeowner claims from the Woolsey Fire and Hill Fires in Southern California, according to Bower.
Liberty Mutual said this week it is currently estimating insured losses of roughly $300 million related to the California Wildfires.
Chubb Ltd. has issued estimates this week of 4th quarter catastrophe losses of $225 million from the California wildfires. Chubb's loss estimates include commercial property, personal property, casualty and reinsurance losses.
According to A.M. Best, most operating entities of Chubb have current Financial Strength Ratings of A++ (Superior).
It looks like least one insurer won't survive the Camp Fire.
California regulators moved on Friday to take over an insurance company that can't pay out all its claims.
Merced Property & Casualty Company was pushed to insolvency by the fire that sparked Nov. 8 and nearly destroyed Paradise and surrounding towns, California Insurance Commissioner Dave Jones said.
The volume of claims associated with the catastrophic Camp Fire has overwhelmed the small insurer to the point of insolvency, according to Jones.
"We are moving aggressively to take the necessary legal action to take control of the company and to trigger the state law enabling the California Insurance Guarantee Association to immediately begin the process of evaluating losses and paying claims," Jones said in a statement.
Jones and the California Department of Insurance on Friday filed an expedited request for an order enabling the takeover of the company with the Merced County Superior Court.
The California Insurance Department's Conservation and Liquidation Office, established by law to handle the liquidation of failing insurance companies, is managing the transfer of the company's claims handling to CIGA.
The order was granted on Monday, according to Kincaid, the CDI spokeswoman. She said files from the insurer are in the process of being moved to the liquidation office.
The company only had 200 policies in all of Butte County, however Merced Property & Casualty is a small insurer, listing only $23 million in liabilities, records show.
"This event was a catastrophe, it overwhelmed the company and it left them unable to meet their obligations and that's why the commissioner had to take this step," Kincaid said.
Related:
Was this article valuable?
Here are more articles you may enjoy.