Catastrophe modeling firm AIR Worldwide estimates that industry insured losses from the Camp Fire in Northern California will be between $6 billion and $9 billion, and taken together with the Woolsey fire in Southern California AIR estimates industry insured losses at between $9 billion and $13 billion.
AIR's insured losses estimates are based on the assumption of nearly 100 percent take-up rates. The estimates are slightly below the most recent estimates for total losses from industry data provider CoreLogic.
CoreLogic said last week that total losses from the wildfires in Northern and Southern California could reach from $15 billion to $19 billion, while losses alone from the Camp Fire, the most destructive and deadliest wildfire in the state's history, are estimated to be between $11 billion and $13 billion.
Modeler RMS said in mid-November losses from the California wildfires could be between $9 billion and $13 billion.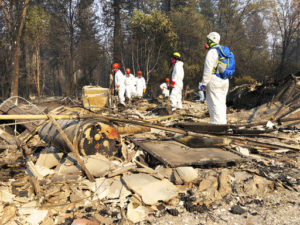 The Camp Fire is considered the deadliest and the most destructive single wildfire in California history. The Camp Fire burned 153,336 acres and destroyed more than 18,700 structures: 13,696 single-family homes, 276 multi-family homes, 528 commercial structures and 4,293 other structures. An additional 564 structures were damaged, including 462 single-family homes and 102 commercial structures.
The Woolsey Fire in Southern California burned 96,949 acres, and destroyed 1,500 structures.
Farmers Insurance has said it expects $2.1 billion in claims from the California wildfires in November, with much of that loss expected to be paid out by reinsurers.
Losses from the fires will likely be concentrated among insurers with high exposures in the fire areas, including State Farm, Farmers, CSAA, Auto Club, Liberty Mutual and Allstate, according to information from SNL Financial and Moody's.
AIR derived loss estimates though its AIR Wildfire Model for the U.S., and the estimates are based on exposures as of the end of 2017.
AIR said it is assuming nearly 100 percent take-up based on the fact that damage from fire, including wildfire, is included in standard homeowners' policies in California.
AIR's range of loss estimates is based on the modeled loss within the burn scar and reflects uncertainty in the payment of additional living expenses resulting from mandatory evacuations, loss of some individual structures outside of the most affected neighborhoods, extra expense and ordinance losses, as well as loss due to smoke, loss of electricity, and damage from suppression efforts.
AIR's modeled insured loss estimates for the Camp Fire include: Insured physical damage to property (residential, mobile home, and commercial), both structures and their contents, and auto; direct business interruption losses; and demand surge—the estimated increase in costs of materials, services, and labor due to increased demand following a catastrophic event
AIR's insured loss estimates for the Camp Fire do not include: losses to uninsured properties; losses to land; losses to infrastructure; losses from indirect and contingent business interruption; and loss adjustment expenses.
Related:
Was this article valuable?
Here are more articles you may enjoy.