Wildfires and the Dynamex decision.
Those two topics dominated discussions at an insurance wholesaler conference this week.
The California Wholesaler Association conference in La Jolla, Calif. from Sunday through today featured numerous panels and networking opportunities. CIWA talks included experts sounding off on topics ranging from insuring marijuana businesses to employment practices ligation to terrorism coverage to millennials.
The impact on the industry from California's deadly 2018 wildfire season was on often discussed topic at the conference.
The fires made for a hefty workload last year for insurance industry lobbyist John Norwood of Norwood and Associates – and he expects more work this year.
Some 30 pieces of Legislation regarding insurance and the wildfires were introduced last year, according to Norwood, who kicked off the conference on Monday with a legislative update.
Many of the bills included extending limits for replacement costs, nonrenewal regulations and disclosures. That's on top of regulatory actions from outgoing California Insurance Commissioner Dave Jones.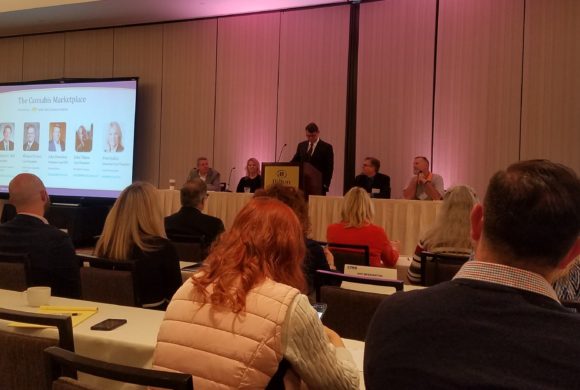 Jones after the November 2018 fires issued a notice requesting that residential property insurers provide at least 75 percent and up to 100 percent of contents coverage limits for wildfire victims who experienced a total loss without the requirement of providing a detailed home inventory. He reported in late December that most insurers were following the notice.
Norwood doesn't expect last year to be the end of legislation related to wildfires and insurance, especially considering the possibility that some liability for the fires could be placed at the feet of utility giant Pacific Gas & Electric Co.
Those issues plus having another Democratic governor paired with a state Senate and Assembly dominated by Democrats, makes it unlikely the state will have a business-friendly climate – meaning the industry must keep a watchful eye on bills introduced this year, he said.
"It's going to be a challenge going forward," Norwood said.
Norwood also reported there are parties who are looking at a "Dynamex fix" bill.
The California Supreme Court last year issued a landmark decision in Dynamex Operations West Inc. v. Superior Court of Los Angeles.
The court in its decision rejected the standard Borello test for determining whether workers should be classified as employees or independent contractors and embraced a standard presuming that all workers are employees instead of contractors. It also placed the burden on any entity classifying an individual as an independent contractor of establishing the classification is proper under a new "ABC test."
This hiring decision not only impacts businesses and those hired, but it also has tax and regulatory consequences. Incorrect classification of an employee as an independent contractor can result in costly tax and legal consequences to the business.
Norwood said the decision affects the property/casualty industry in several ways, in particular that many agents also work as independent contractors. He said that labor activists may be seeking to strengthen or at least add support to the decision this year.
"This is an area that begs for legislative clarification," Norwood said. "It's not going to be an easy fight to clarify."
More on Wildfires
Jim Woods, a long-time insurance attorney, gave the luncheon keynote speech, which was focused on the state's devastating wildfires.
Woods, formerly co-leader of Mayer Brown's Global Insurance Industry Group and chair of the LeBoeuf, Lamb, Greene & MacRae Insurance Practice, now owns and operates Woods Group Solutions, headquartered in Sonoma, Calif. The focus of the firm is on creating solutions to problems faced by the insurance industry.
The two major fires in November alone burned hundreds of thousands of acres, cost numerous lives and resulted in at least $9.1 billion in insured losses. The fires also wreaked havoc on Pacific Gas & Electric Co.'s stock value.
Several insurance companies have filed lawsuits blaming PG&E for a deadly California wildfire that destroyed 14,000 homes and triggered billions of dollars in insurance claims. The lawsuits filed by Allstate, State Farm, USAA and their subsidiaries come on top of several other cases filed by victims of the Camp Fire, which devastated the towns of Paradise, Magalia and Concow north of Sacramento after it started Nov. 8.
Woods summed up the fury of the Camp Fire in a sentence:
"The Camp Fire spread at more than one football field per second," he said.
Woods said the industry should view the wildfires as an opportunity to provide leadership and help find a way to keep homeowners safer and encourage the community to make better decisions to prevent wildfires or at least reduce their impact.
Creating a statewide wildfire map to be reviewed by the state, forestry management, better building codes, and forming a joint powers authority, were among the solutions he reviewed.
Also setting up a backstop similar to the California Earthquake Authority could be another idea, he said.
"A California Wildfire Authority," he said may be at least worth thinking about.
"Could we do something like that in wildfire areas?" he asked.
However, Woods pointed out numerous hurdles to such an authority. One is that carriers are not required to provide fire protection, but they were being required to provide earthquake protection before the CEA was formed in the wake of the 1994 M6.7 Northridge Earthquake. That means carriers don't have an immediate incentive in creating an authority to tackle wildfire risk.
"We in the insurance industry have the ability to address some of this," he said of looking at numerous solutions. "We have an opportunity in the insurance industry to show real leadership here."
Cannabis
A panel on the cannabis marketplace was moderated by Golden Bear chief Rupert Hall, and included Michael Brown, vice president of Golden Bear, Pam Quilici, executive vice president of Crouse and Associates, John Tatum, vice president of M.J. Hall & Co., and John Donahue, president and CEO of Topa Insurance.
Golden Bear was the state's first admitted insurer to offer a product to the cannabis market when their first filing was approved by the insurance commissioner in late 2017, and last year the insurer got approval to expand coverage options, and expand the classes of business they will cover.
Being the first has its advantages, and as well as some lessons learned, according to Brown.
"It's been an interesting road," Brown said.
Topa writes cannabis coverage in the admitted market in several states, though not yet in California, but it plans to continue to expand in that area, Donahue said.
"We feel that this product is here to stay," Donahue said.
He said most cannabis operators seek the same kind of insurance many businesses want, such as general liability, worker's compensation, slip and fall, while growing facilities with their expensive equipment and sophisticated operations need a lot of insurance.
"We're seeing high property limits," he said.
Brown said some businesses have been in operation long enough to have a good loss history, but many have operated in grey areas before California legalized adult use, so that history isn't always a dependable one for underwriting purposes.
Underwriting as a whole for the cannabis industry can be tough, he said, because there are also numerous companies with no loss history at all.
"The business interruption exposure, for example, is a vague and nebulous thing for a lot of startup operators," he said.
Tatum said that because banks are regulated by the federal government, which still considers cannabis a controlled substance, that many operations have an abundance of cash on hand.
"Finding coverage for the actual cash on the premises has been a problem," he said.
Quilici said that educating her clients on the ins and outs of cannabis coverage has become a big part of the job, as has educating herself.
"I've got retailers that know this business than I ever could, and I've got retailers that know nothing," she said.
Brown discussed some "pain points" in dealing with insuring cannabis operators, one of which was finding reinsurance.
"That's been an annoying side," he said, adding that not enough reinsurers are currently interested.
Donahue agreed.
"That's been quite a problem," he said. "The higher limits above $10 million are hard to get."
Employment Law
Kristi Dean and Robyn McKibbin, attorneys with Stone Dean LLP, gave some employment law updates.
Decisions they covered included:
Liberty Surplus Insurance Corp. vs. Ledesma & Meyer Construction
Republic Bag, Inc. vs. Beazley Insurance Company
AMN Healthcare vs. Aya Healthcare
Troester vs. Starbucks
Rodriguez vs. Taco Bell
Both talked about the impact of the #metoo movement on employers, new laws on workplace harassment, changes in how California businesses should handle transgender matters, landmark cases impacting employment law and Dynamex.
McKibbin said employers could consider the ramifications of changes to employment practices from developments like the Dynamex decision, which she believes has the potential to recover "billions of dollars in unpaid payroll taxes," and the Labor Code Private Attorneys General Act.
PAGA authorizes employees to file lawsuits to recover civil penalties on behalf of themselves, other employees and the state of for labor code violations.
According to Dean, Equal Employment Opportunity Commission lawsuits are up 50 percent and monetary awards from those suits are up 22 percent.
"There are some very scary laws out there that can be time consuming and problematic," McKibbin said.
Related:
Topics Cannabis
Was this article valuable?
Here are more articles you may enjoy.