The official tally for insured losses from this year's major California wildfires is $9.05 billion – for now.
California Insurance Commissioner Dave Jones on Wednesday released official figures for losses from the Camp Fire in Northern California and the Woolsey and Hill wildfires in Southern California this year.
Up to now loss estimates have been provided by third-parties, and have ranged from the most recent estimate from catastrophe modeler AIR Worldwide of $9 billion to $13 billion in insured losses for the Camp and Woolsey Fires. CoreLogic said at the beginning of the month that total losses from the wildfires in Northern and Southern California could reach from $15 billion to $19 billion.
Modeler RMS said in mid-November losses from the California wildfires could be between $9 billion and $13 billion.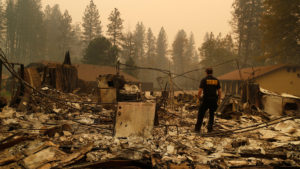 Jones on Wednesday during a press conference drew a distinction between those figures and the fires the California Department of Insurance has now provided.
"These are hard, actual insured loss figures based on claims that have been filed," Jones said.
However, he cautioned that the data is preliminary, and the figures traditionally rise after wildfires as more people gain access to properties and claims get refined.
"We expect these numbers to rise," Jones added.
The tally Jones gave from the three fires includes 17,955 partial residential losses, 10,564 total residential losses, 1,648 partial commercial losses, 350 total commercial losses, and 9,457 auto and non-residential losses – such as ocean marine, inland marine, aircraft, boiler and machinery. Figures from the CDI show the largest portion of losses come from the Camp Fire, at just over $7 billion, while losses from the Woosely and Hill fires were a combined $2 billion.
Information from SNL Financial and Moody's shows losses from the fires will likely be concentrated among insurers with high exposures in the fire areas, including State Farm, Farmers, CSAA, Auto Club, Liberty Mutual and Allstate.
Farmers Insurance has said it expects $2.1 billion in claims from the California wildfires in November, with much of that loss expected to be paid out by reinsurers.
Merced Property & Casualty Co., a small insurer with roughly 200 policies in the area of the Camp Fire, was pushed to insolvency by the fire that sparked Nov. 8 and nearly destroyed Paradise and surrounding towns.
Jones contrasted the fires this year with those last year, which burned fewer properties but resulted in higher insured losses due to the median home prices being higher. Total losses from those fires and a resulting mudslide earlier this year were $13.8 billion, according to CDI.
The median home price a home in Santa Rosa, which was hit hard by the 201 wildfires, was roughly $500,000. The median home price in Paradise, which was devastated by the Camp Fire, is roughly $250,000.
Jones again noted that figures for insured losses from this year's wildfires is expected to continue to grow.
"They could ultimately exceed the losses for the (2017) Northern California wildfires," Jones said.
Jones, who has been an outspoken proponent for the insurance industry to get more involved in battling climate change, said that back-to-back years of record-breaking wildfires and a longer wildfire season in California has prompted carriers to begin raising rates or to stop writing in higher risk areas.
"Insurers are responding to climate change, the growing risk of more severe and more frequent wildfires," Jones said.
Related:
Topics California Catastrophe Natural Disasters Profit Loss Wildfire
Was this article valuable?
Here are more articles you may enjoy.