California Insurance Commissioner Ricardo Lara has named Mark Morales to lead the California Department of Insurance's Diversity Task Force, the first LGBTQ+ person named to the post.
Morales replaces Sal Peinado, Jr. He will lead the first quarterly meeting of the task force on March 11.
The CDI's Insurance Diversity Initiative focuses on accelerating progress and equity within the insurance industry by encouraging greater diverse representation among the boards of insurance companies and increasing procurement from diverse suppliers, including businesses owned by women, LGBTQ+ people, veterans, disabled veterans, and historically underrepresented communities.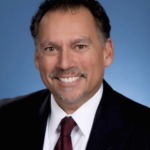 The task force identifies and recommends actions to the commissioner that will advance the diversity and equity goals of the Insurance Diversity Initiative.
Morales is vice president of the small business administration loan division at City National Bank, specializing in SBA financing and loan programs for diverse owned businesses. Morales is also the co-owner of Charles Jacobsen Inc., an LGBT business enterprise.
Topics California Leadership Diversity
Was this article valuable?
Here are more articles you may enjoy.