By all accounts the California wildfire season continues to shape up to be a bad one, and another catastrophe modeling firm has reported sales of their products picking up due in part to carriers and reinsurers looking for more ways to reduce risks – one of which may be to non-renew homeowners in the highest risk areas.
The state's wildfire season, which continues to start earlier each year – the state's seasons have been averaging an extra 75 days, according to CalFire – may already be off to an ominous start. The ongoing Lava Fire in Northern California has burned more than 25,000 acres, while containment has grown to more than 71%. The Tennant Fire also in Northern California is 10,614 acres and is 57% contained.
The National Interagency Fire Center's latest wildfire fire potential outlook for July has much of the U.S. West, including California, Idaho, Montana, Nevada, Utah, Washington, and Wyoming, colored in red, indicating an "Above Normal" chance of wildfire. More than 25% of the region is under "exceptional drought" conditions, the most severe category used by the U.S. Drought Monitor.
CalFire has said fuel moisture levels in June were already at levels seen in late July.
"We're trending about six weeks ahead of where we would be in a typical year," said CalFire Battalion Chief John Heggie.
All the dry fuel has led to the state being up so far this year in both acreage burned and the number of ignitions.
As of July 6 the number of fires in California have totaled 4,599, with 73,511 acres burned. That's an increase of 752 fires and 42,400 acres from last year. The five-year average is 2,630 fires with 52,623 acres burned, according to CalFire.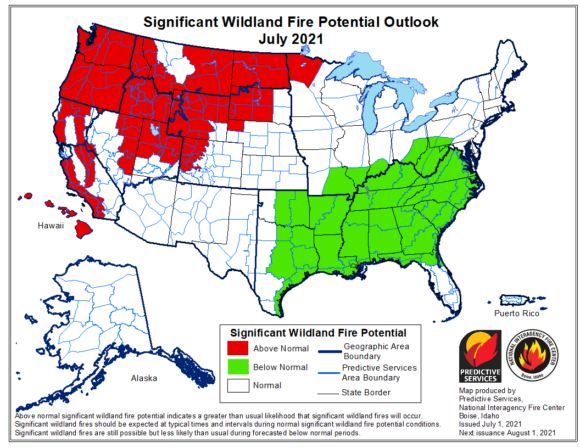 The sounding alarms seems to have insurers actively looking for solutions.
Catastrophe modeler CoreLogic has seen a rise in sales of its sophisticated yet costly products to carriers who are examining their risks in the state. California regulators in early June approved a plan by Farmers Insurance to assess wildfire risk by using a tool that combines artificial intelligence with high-resolution aerial photography. The carrier said the Z-Fire risk scoring model developed by Zesty.ai is expected to make standard coverage available to an additional 30,000 homeowners.
Risk Management Solutions Inc., a well-known Newark, Calif.-based catastrophe modeler, has also seen a surge in interest in its products from insurers and reinsurers, who increasingly want to know "How bad could the worst be?"
Those are the words of Michael Young, vice president, model product management, with RMS.
Young believes the insurance community has become increasingly wary of what wildfires can do in places like Paradise, Calif., which was almost completely destroyed by the 2018 Camp Fire, and more recently the fire that destroyed nearly all the homes and structures in the small town of Lytton in British Colombia in late June during an unprecedented heat wave that scorched Western Canada.
"We've seen an uptick in inquiries about our modeling solutions and our scoring solutions," Young said.
Their models enable insurers to know more precisely where the higher risks are, allowing them to provide coverage without altogether avoiding wildfire-prone areas, but they can also be used by insurers to help identify and non-renew properties that are deemed too risky.
"That's the thing that the regulators most worry about," Young said.
Consumer complaints about non-renewals to the California Department of Insurance doubled statewide following 2018's massive wildfires, though complaints about non-renewals fell slightly last year, according to the CDI.
The number of California homeowner policies that insurers declined to renew rose 31% to 235,250 in 2019 from 179,458 in 2018, while the number of policies issued through the FAIR plan rose to 190,196 from 140,138, according to a report by the California Department of Insurance.
The recent dip in consumer complaints over non-renewals followed California Insurance Commissioner Ricardo Lara's orders of renewal protections for more than 1 million policyholders in 2019 and 2.4 million in 2020.
Residential non-renewal data from 2020 was due this spring. A CDI spokesperson said the department is in the process of reviewing insurance company data for last year, but wouldn't say when that data is expected to be released.
Non-renewals and rising rates mean some homeowners in high-risk areas are finding it difficult to obtain insurance. Some of these homeowners have been driven into the California FAIR Plan or the surplus lines market.
Representatives for the FAIR Plan would not provide the most recent data on the number of policies written by the FAIR Plan, but confirmed the FAIR Plan has seen an increase in the number and percentage of policies written for properties in high fire-risk parts of the state.
Both the residential and commercial surplus lines markets in California have "hardened substantially and trendlines indicate continued hardening into 2022," a recent report from the Surplus Line Association of California shows. The average premium per commercial transaction for May, the latest data available, rose from $9,000 during the same period in 2018 to $27,000. The average premium per homeowners/residential transaction rose from $2,500 in 2018 to $7,500 in May.
What that hardening seems to point to is that even non-admitted insurers don't like the looks of things in California.
"I think what it shows is there's even less of a risk appetite, especially given two years of drought," said Ben McKay, the SLA-Cal's CEO executive director. "I think insures are revaluating their risk appetite."
Those reevaluations also mean insurers are spending a little money to potentially save a lot on losses.
The cost of the annual subscription to the RMS probabilistic model is based on the size of company, with prices ranging from several thousand to several million dollars.
"They're not cheap," Young said. "These are investments that insurance companies have to make."
Immediately following the fire that destroyed Lytton, he said RMS fielded numerous calls from brokers, carriers and reinsurers in Canada asking for more information and quotes on its wildfire modeling products.
Insurers may also see better modeling as way of avoiding what occurred in the mid-90s in Florida, where winds and hurricanes drove insurer insolvencies.
More insures are now worried about massive losses posed by California's increasingly large wildfires. Merced Property & Casualty Co. in 2018 was pushed to insolvency by the fire that nearly destroyed Paradise and surrounding towns. California regulators moved in December 2018 to take over the insurer when it became known it couldn't pay out all its claims following the fire that destroyed more than 13,000 homes.
"It's that kind of devastation that is worrying a lot of insurance companies in the Western U.S. and Western Canada," Young said. "They need some additional technology to hang loss estimates on that are reacting to the current environment and are not hampered by the past historical data."
Related:
Topics California Catastrophe Natural Disasters Wildfire Homeowners
Was this article valuable?
Here are more articles you may enjoy.