How Insurance Helped Getaround Get Going
---
Can technology positively impact a billion people in just 10 years? Possibly, if insurance is available.
Consider taking a low-use personal automobile — which might sit idle most of the time — and making it available to someone else in a community who needs a car.
That's what Jessica Scorpio was thinking when she helped launch Getaround.com, a peer-to-peer car sharing company that allows participating car owners to share their vehicles to offset the high cost of ownership while making a positive impact on the environment.
Scorpio, co-founder and director of marketing, says the idea for Getaround spawned from her graduate studies project as a member of the Energy Team Project in 2009 at Singularity University, a Mountain View, Calif.-based educational institution aimed at advancing technologies to address humanity's grand challenges.
"We were challenged to come up with a new idea that could positively impact a billion people in 10 years," she said. "You have a car that sits idle 92 percent of the time; it serves its owner well, but it also is a really expensive asset that could be used more effectively."
Scorpio didn't expect people to stop driving completely anytime soon, but she saw an opportunity to create a marketplace that would connect car owners with other people in need of a car. Such a connection would provide a needed service but would also limit the number of cars on the road thereby reducing the carbon footprint.
The bonus: the car owner can make money off their asset, and other people can choose not to own a car.
But in order to make this innovative idea a reality, a few big problems had to be solved. One of those problems was finding insurance.
"We worked for about the first year to overcome the key challenges. One was insurance and the other was technology," Scorpio said. "We felt like providing insurance was really key."
Other car sharing networks, such as Cambridge, Mass.-based Zipcar, which provides its members with access to shared vehicles in urban areas, have had some success. But Getaround's business model would be different.
"Zipcar's done a really great job of getting awareness for car sharing, but they're very limited in where they can operate," Scorpio said. That's because Zipcar owns its fleet of vehicles, which Zipcar's members then share. "It can only operate in the densest urban areas, so there are tons of little cities and towns, and even the more suburban areas that want car sharing that will never be able to have car sharing with the fleet model," Scorpio said.
Scorpio said that while it had its advantages, Getaround's model of using a peer-to-peer car sharing approach rather than a fleet of company-owned vehicles made securing insurance difficult.
"I think we were a little early in trying to get something like this developed," she said. "We had to do a lot of education."
Securing insurance for a start-up company can be tough even without Getaround's unique peer-to-peer car sharing exposure. But getting a new type of policy created that would cover the unusual risks of car sharing was really, really difficult, she said.
"We had to be very scrappy, very creative even in reaching the right people, so we actually cold called insurance VPs," Scorpio said.
That's right — cold calling insurance brokers and carriers to find coverage. And sometimes it worked.
"We got through sometimes," she said. "It was really interesting … The VP of some major insurance company takes 20 minutes to talk to you. And at the end he says, 'Well, call me back when you have two years of experience.' And we're like, 'Oh, we will,'" she said.
The Sharing Economy Trend
While peer-to-peer car sharing remains in its infancy and is primarily found in San Francisco and a few other places, peer-to-peer home sharing firms have had more far-reaching success.
San Francisco-based Airbnb claims that it has booked more than 5 million accommodations worldwide since August 2008. It operates offices in nine countries and lists peer-to-peer rental accommodations in more than 19,000 cities and 192 countries.
But the sharing economy is making more than cars and homes available.
People in need of a lawn mower or chain saw might find a friendly neighbor to borrow (or rent) from on social networking sites such as HeyNeighbor.com.
Or people who need an errand run can find a person willing to do the job for a few bucks at TaskRabbit.com.
Want to save on gas? In today's sharing economy consumers can access car-pooling social networking sites like Zimride.com, or rent bicycles to ride from Rentcycle.com.
The sharing economy doesn't seem to be going away any time soon. According to a national study, 60 percent of people say they find the concept of sharing appealing, and 71 percent of people who have used shareable products expect to continue to do so.
"This trend is no longer emerging, it's here," said Lynn Franz, of Campbell Mithun, the Minneapolis-based advertising agency that commissioned the study.
This year looks to be a good one for the sharing economy and start-ups ready for growth.
Ron Conway, special adviser to SV Angel, recently identified the sharing economy as 2012's hot area for angel investment in The Economist.
Given the growth in sharing-related options and new businesses, nurturing an insurance market ready to respond will be key, says one broker who was instrumental in developing an insurance program for Getaround.
"I personally believe that this is a very large trend," said Julie Davis, vice president, brokerage and social media director for Heffernan Insurance Brokers based in San Francisco. The trend has become so commonplace that it's forcing a change within the insurance industry, Davis says.
"The insurance industry is very focused on insurance policies where people own an asset, and they're not focused on, 'How do I actually cover something where the ownership and the maintenance might be a little bit different?' Insurance carriers are trying to struggle with, 'How do I make this work? How do I do this?'" she said.
Creating an Insurance Market
Scorpio knew that for Getaround to be a success she had to find the right insurance partners. She found that in Heffernan's Davis.
"We were lucky enough to find Julie at that time and she's just been our guardian angel since," Scorpio said. "I think it's about really finding the right broker with the right connections and vision when you're doing something innovative."
After all, it takes an innovative insurance program to serve the needs of an innovative company like Getaround.
After initially trying to find insurance through large national retail brokers, Getaround found Davis was a breath of fresh air.
"She really looked at it the right way, and I felt like a smaller firm could really help us because we got more attention. She was able to pull some personal connections and get the ear from people who otherwise would not really have wanted to listen," Scorpio said.
Peer-to-Peer Coverage Challenges
Getting someone in the insurance industry to listen wasn't easy.
"Frankly, we beat the market to death," Davis said. "I can't even begin to tell you how many declinations we had." Davis soon found out that for peer-to-peer car sharing nothing was simple when it came to insurance.
"The biggest challenge that you have surrounds a couple of things: First, you have the issue of ownership. You have the issue of maintenance. You have the user agreements, the contractual liability," Davis said. "Then, specifically, whenever you're talking about car sharing, the one additional item that comes into play is legislation."
That's because one of the biggest obstacles in peer-to-peer car sharing liability centers on the car owner's personal auto policy coverage and whether or not the vehicle is considered a commercial vehicle due to the nature of car sharing for a rental fee.
"The crux of the issue is that standard language in a personal auto policy usually contains an exclusion if you are renting the car out," said Robert Passmore, senior director personal lines policy for the Property Casualty Insurers Association of America.
Personal auto policies typically exclude coverage when vehicles are used as a livery (taxi or limos), or for rental car services, he said. "Those are commercial uses of a motor vehicle and typically excluded under a personal auto policy."
Legislation passed in California in 2010, and then in Oregon in 2011, has resolved ambiguity for some peer-to-peer car sharing liability issues. Similar pending legislation in Washington aims to do the same this year.
The legislation does two things, according to Passmore. "One, it prevents consumers who are sharing their cars from having to go and get a commercial auto policy. It also delineates who's responsible for what, basically that the car sharing company's insurance is going to be responsible for anything that happens while the vehicle is in possession of the car sharing company," he said.
"The important thing is that if you are getting involved in one of these car sharing programs you want to make sure that your exposures are covered under whatever policy is being provided by the car sharing organization," Passmore said.
In California, the legislation (AB 1871) also prevents a personal auto insurer from altering the policy because the owner is participating in a car sharing program, says Peter Moraga, spokesperson for the Insurance Information Network of California. In other words, a personal auto insured cannot be non-renewed or charged a higher rate just because they are participating in car sharing.
The law, which insurers helped craft, has brought about changes to personal auto policies in California, he said.
"Our members are reporting that because AB 1871 stipulates what can and can't be done, they've had to adjust their policies to specifically exclude any claim arising during the car's sharing," he said. "So where that may not have been clearly spelled out in the policy, some of our members have now added language to define 'car sharing' parameters for claims accepted on the auto."
The car sharing economy likely will drive legislative changes in other states, too, as companies like Getaround expand.
States will have to address the issue, Passmore said, "because if an accident occurs you can probably expect that the plaintiffs will go after everyone, any potential sources of recovery."
In his view, personal auto insurers will see car sharing as an unfavorable exposure even if they are protected under legislation like AB 1871.
"In effect you are renting out your car and that is typically excluded," Passmore said. "So yes, it is considered an unfavorable exposure because you don't know who is driving the car."
Even so, personal auto insurers don't seem to be making any decisions just yet.
"We haven't seen much impact with insurers yet," Moraga said. However, he added that so far insurers have received few inquiries from policyholders about car sharing liability issues, but as the sharing economy evolves that may change.
"This is such a new thing," he said. "Like any new thing it takes time before it's actually tested."
Passmore agrees that insurers have yet to respond in a big way, but he says the question really lies in what happens from here.
Anybody can name anybody in a lawsuit, he says. "I haven't heard of any big cases or court decisions but it's also a pretty new program — and it only takes one."
Topics Insurtech
Was this article valuable?
Here are more articles you may enjoy.
From This Issue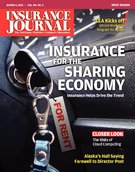 Hospitality Risks Directory; Homeowners & Auto; Technology & New Media Risks