Even though venture capital investments in venture capital-backed financial technology (fintech) companies fell more than 50 percent globally during the second quarter of 2016, interest in insurance technology startups (insurtech) continues to pick up steam, a new report reveals.
According to the "Pulse of Fintech" report, a quarterly global update on fintech VC trends published jointly by KPMG International and CB Insights last week, VC-backed insurtech investments hit the $1 billion mark across 47 deals in the first half of 2016. That compares to $2.5 billion of investments in 74 deals for all of 2015, the report says.
Highlighting 2015 as the year that "insurtech came into its own," and characterizing the jump to $2.5 billion as a "massive leap" compared to the previous four years, the report notes that insurtech investment in 2016 so far includes "tremendous activity by many traditional insurers that are increasingly creating their own venture capital funds."


"While investment in VC-backed fintech companies decreased over the past quarter, we are encouraged by the momentum that is building in underinvested areas such as insurtech, healthcare, banking and blockchain," said Anthony Rjeily, KPMG's Financial Services Digital and fintech practice leader, in a statement about the report, which tracks investments in all these areas and others.
The report also covers lending tech, payments/billing tech, personal finance/wealth management, money transfer/remittance, institutional/capital markets tech and equity crowdfunding, providing geographic breakdowns in total and by sector, as well as information ranking the most active VC investors in fintech.
Insurtech, for the purposes of the report, is defined as "companies creating new underwriting, claims, distribution and brokerage platforms, enhanced customer experience offerings, and software as a service to help insurers deal with legacy IT issues."
Overall, across all the fintech sectors taken together as a group, the report describes a precipitous drop in VC-backed fintech investment activity in the second quarter of 2016, with value of deals falling to $2.5 billion for the second quarter compared to 4.9 billion in the first quarter (a 49 percent drop) and $5.2 billion in last year's second quarter (a 52 percent drop).


With deal numbers also shrinking around 11 percent to under 200 in the quarter (195 VC-backed deals based on the tally from CB Insights), KPMG leaders attributed the pause to global market uncertainties associated with the U.K. Brexit vote and those in the U.S. surrounding the upcoming presidential election in an introduction to the report. They also cited "ongoing concerns about valuations and significant headwinds in the marketplace lending space," noting that the "cooling-off period" may persist for the rest of the year.


"While some VC investors are being cautious, many corporates are forging ahead with fintech-related activities. Banks, financial institutions and insurance companies seem to be continuing to shift their view of fintech companies as disrupters and competitors to one where they are viewed as partners and enablers," the report says.
While the report does not include any funding breakout separating life/health investments from property/casualty, it does list health insurance investments as the three top deal in the first half, contributing to two-thirds of the InsurTech deal value (Oscar Health, $400 million; Clover Health, $160 million; Bright Health, $80 million). Separately, CB Insights recaps all types of InsurTech financing deals in a blog item on its website (July 11, 2016, The Top Financings, Partnerships & Hirings In Insurance Tech — H1'16 Recap). Included on the CB Insights list are:
The CB Insights blog item also lists partnerships between insurtech companies and P/C insurers and reinsurers. Among them are: Munich Re's partnership with Slice Labs Inc. announced in July; Liberty Mutual's partnership with home security startup Canary, also announced in July; Amica Mutual's partnership with a weather data sensor startup, Understory, announced in March.
(Editor's Note: While Munich Re is a coverage partner for Slice, which is launching a tap-for-coverage on-demand insurance platform to support the on-demand economy, the insurtech startup disclosed in March that $3.9 million of seed funding would come from XL Innovate and Horizon Ventures.)
The KPMG/CB Insights joint report, "Pulse of Fintech," notes that 60 percent of VC-backed insurtech deals occurred in the United States during the second quarter of 2016, adding, however, that the U.K. is also an important leader in the insurance space for health, auto insurance, comparison websites and data management. The report also mentions Australia as an attractive location to test customer-focused activities, noting that Trōv is rolling out its on-demand insurance for laptops, phones, cameras and other personal items in Australia in advance of the U.S.
Numbers in the report reveal that the number of insurtech deals in 2015 remained fairly steady with 2014 (74 vs. 71), but the number tallied in 2016 through the first half is already more than 60 percent of last year's full-year total (47 compared to 74). Funding dollars are lagging a bit, however, with the $1.0 billion for this year so far representing less than 40 percent of last year's total ($2.5 billion).
For VC-backed fintech companies overall, deal numbers and values for 2016 through the first half are roughly half of counts and values for the full year last year.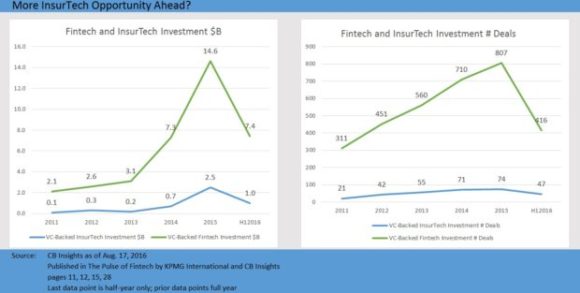 Throughout the report, KPMG also makes a distinction between "VC-backed" fintech investments and "overall" fintech investment, defining "overall" investments to include funding by angel investors, angel groups, PE firms, mutual funds, hedge funds, VC, corporate and corporate VC investors. Globally, "overall" fintech investment was $9.4 billion in the second quarter, up nearly 65 percent from the first quarter. Together, "overall" fintech investments across both venture-backed and non-venture-backed companies totaled just over $15 billion for the first half for 832 deals, with InsurTech accounting for just under 10 percent of the deals (82 deals).
Still, the report includes bullish language about the potential for insurtech, noting that the "most exciting part of insurtech is that it is very young." Although the report says it is "likely that funding rounds will be volatile from quarter to quarter," it also notes that investments will likely focus on meaningful ways to engage customers across online and mobile platforms and ways to improve policy handling and claims payment process. The authors also expect an increase in the use of blockchain and smart contracts for insurance, along with predictable increases in the use of data analytics use (for better customer insights) and opportunities to use the Internet of Things (potentially to adjust premiums when IoT offerings help with risk identification and mitigation).
The report highlights partnering between technology companies and insurance carriers as a key opportunity for both. Without access to existing insurer distribution systems and customers, technology companies "would not be able to scale their business in a meaningful way," the report says.
On the carrier side, the report describes the creation of "digital garages" as a noticeable second-quarter trend in partnering models, defining the garages as "in-house innovation units where insurers can foster entrepreneurial thinking."
"Within this model, insurtech companies can come together to help resolve specific challenges identified by the innovation unit while providing insurtech companies with support and expert advisers to help fuel their own growth," the report notes, highlighting Allianz's Singapore-based lab for harnessing digital innovations and advanced analytics as one example of the trend.
Was this article valuable?
Here are more articles you may enjoy.