California Insurance Commissioner Dave Jones on Thursday released the results of the formal notice he issued last month to all residential property insurers requesting they provide up to 100 percent of contents coverage limits for fire survivors who experienced a total loss and relieve them from the requirement of providing a detailed home inventory.
The insurers that agreed to Jones' request have 97 percent of the total-loss insurance claims for policyholders who experienced a residential loss. These insurers have agreed to increase their contents payments beyond the 25 percent they already agreed to in response to Jones' prior notice, which asked insurers to expedite claims payments, according to the California Department of Insurance.
Insurers have also agreed Jones' request to make payments without an inventory ranging from 50 percent up to 100 percent of contents coverage limits, with many insurers agreeing to at least 75 percent or even 100 percent, according to the CDI.
The insurers with total loss claims that have so far agreed to waive the inventory for a percentage of contents coverage based upon the Jones' request are: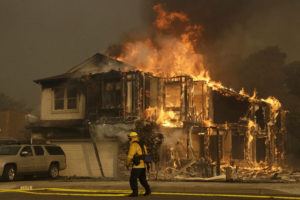 State Farm Group; Farmers Group (including Foremost); CSAA, Liberty Mutual/Safeco; Allied/Nationwide; USAA; Travelers; Allstate (including Encompass); Hartford; California Capital; Homesite; Chubb; Auto Club of Southern California; American Modern; Aegis Security; National General; Mercury; AIG; Ameriprise; QBE; FAIR Plan; TOPA; Universal North American Ins; First American Title; Western Mutual; Wawanesa; Stillwater Insurance; Horace Mann; Amica; MAPFRE; and Kemper.
"Many insurers have stepped up to do the right thing for policyholders by agreeing to my request and eliminating more red tape from the claim process," Jones said in a statement. "Increasing personal property payments for fire survivors who suffered a total loss is an important step in easing survivors' overwhelming burden and helping them move forward by eliminating or reducing the arduous burden of trying to create a detailed home inventory for every piece of personal property they owned and lost to the fire."
Related:
Was this article valuable?
Here are more articles you may enjoy.