Mesa police say a self-driving vehicle was among five cars involved in a collision, but no serious injuries were reported.
The driver of the Waymo vehicle told authorities that the car wasn't in autonomous mode at the time of Saturday night's crash.
Witnesses say a car failed to stop for a red light and crashed into a Waymo vehicle as it was making a left turn.
Police say the car then struck three other cars before stopping.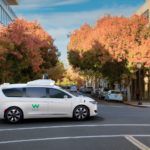 Self-driving vehicles recently came under fire in March when an Uber vehicle in autonomous mode with an operator behind the wheel fatally struck a woman in Tempe
A Waymo vehicle was struck by a red light runner last month in Chandler.
Parent company Google brought the self-driving Waymo project to Chandler.
Related:
Copyright 2021 Associated Press. All rights reserved. This material may not be published, broadcast, rewritten or redistributed.
Was this article valuable?
Here are more articles you may enjoy.