More than 100 homes in the Colorado mountains were destroyed by a growing wildfire, while hundreds of others across the parched U.S. West remained under evacuations Tuesday.
A fire near Fort Garland, roughly 200 miles southwest of Denver, had destroyed 104 homes.
The fire, labeled the Spring Fire, is one of six large wildfires burning in Colorado and the largest at 123 square miles.
Nearly 60 large, active blazes are burning across the West, including nine in New Mexico and six each in Utah and California, according to the National Interagency Fire Center.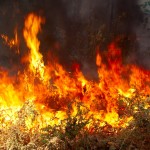 In Utah, authorities have evacuated 200 to 300 homes because of a growing wildfire near a popular fishing reservoir southeast of Salt Lake City amid hot temperatures and high winds. Several structures have been lost since the fire started Sunday, but it's unclear how many, said Jason Curry of the Utah Division of Forest, Fire and State Lands.
A wind-fueled wildfire in Northern California continues to send a thick layer of smoke and ash as far as south of San Francisco was threatening more than 900 buildings.
The massive blaze was choking skies with ash and smoke, prompting some officials to cancel Fourth of July fireworks shows and urge people to stay indoors to protect themselves from the unhealthy air.
At least 2,500 people have been told to evacuate as the sprawling blaze continues to spread, said Anthony Brown, a spokesman with the California Department of Forestry and Fire Protection.
Brown said the blaze that started Saturday and is surging through rugged terrain northwest of Sacramento has grown to 109 square miles amid hot and dry weather expected throughout the day. It was 5 percent contained.
Copyright 2020 Associated Press. All rights reserved. This material may not be published, broadcast, rewritten or redistributed.
Was this article valuable?
Here are more articles you may enjoy.