Twin fires in Northern California being treated as one became the largest wildfire in state history, destroying 443 square miles.
The Mendocino Complex fire north of San Francisco was still growing this week as it broke the record set eight months ago. In December, the Thomas Fire killed two people, burned 440 square miles and destroyed more than 1,000 buildings in Southern California.
The Mendocino Complex, which is 30 percent contained, has been less destructive to property than some of the other wildfires in the state because it is mostly raging in remote areas, however it's threatening 11,300 buildings and new evacuations were ordered over the weekend.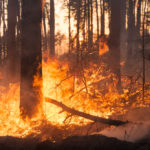 More than 14,000 firefighters are battling more than a dozen major blazes throughout California.
Related:
Copyright 2021 Associated Press. All rights reserved. This material may not be published, broadcast, rewritten or redistributed.
Was this article valuable?
Here are more articles you may enjoy.