California's Carr wildfire has the potential to yield losses of up to $1.5 billion, according to a Moody's report issued on Thursday.
The fire has ravaged parts of Shasta County in or near Redding in the Northern part of the state, caused six deaths and has destroyed 1,555 homes and commercial structures. It has also damaged an additional 240 homes and structures, according to the California Department of Forestry and Fire Protection.
And it may be far from done.
The fire, believed to have been caused by a vehicle mechanical failure, has burned roughly 121,000 acres and is only 35 percent contained. Another 1,700 structures are currently being threatened, according to Cal Fire.
According to the Moody's report, homeowners insurers are also likely to be adversely impacted by additional living expense claims from the roughly 40,000 residents who were subject to evacuation orders, while some commercial property insurers are also likely to pay business-interruption claims.
The upper limit of losses so far is roughly $1.5 billion assuming 1,555 structures destroyed and a historical average value of nearly $991,000 per structure, which includes commercial structures and factors like living expenses, said report author Jasper Cooper, a senior analyst and vice president with Moody's.
However, he said losses could be impacted by high construction costs, driven in part by demand from the 2017 fires in the area.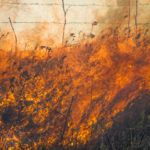 California property/casualty insurers may also be hit by wildfire losses from properties insured by the California Fair Access to Insurance Requirements Plan. The FAIR Plan insures a disproportionate share of property in remote locations and regions with high wildfire exposure, and each California insurer is required to participate in FAIR plan losses in direct proportion to its market shares, according to Moody's.
Moody's shows the top California homeowners insurers as of 2017 in terms of premiums in force include State Farm ($1.3 billion), Farmers ($1.2 billion), CSAA ($520 million) and Auto Club ($499 million).
Cooper believes that losses from the Carr far won't be enough to impact any carrier's ratings.
California Insurance Commissioner Dave Jones announced on Wednesday he has asked insurers to expedite claims handling procedures for wildfire damage claims, including being flexible with deadlines and documentation requirements.
Cooper said this could be another costly fire season for the state – there were nearly $12 billion of insured losses from the October and December 2017 wildfires – and if the pace of large wildfires this year in California keeps up, it could surpass last year's devastating fire season.
CAL FIRE records show that wildfires burnt 292,455 acres through the end of July, up from 219,369 for the same period in 2017.
California wildfires destroyed a record 505,956 acres in 2017. Given that most wildfires occur during the last five months of the year, 2018 is at the very least likely to go down as a severe wildfire season, Cooper said.
"So far this year we've actually exceeded the record up to this point last year," Cooper said. "It's an environment where dry conditions are already causing a lot of fires."
He added, "The season's just kind of getting underway at this point."
Overnight winds, steep terrain and dry fuels continued to challenge firefighters, according to CAL Fire's latest incident report.
"Throughout the day crews will continue to mitigate spot fire potential across control lines," the CAL Fire report states. "Red flag warning is in effect for Thursday evening through Saturday. Light southeast winds are expected for today with hot and dry conditions. Repopulation of residents affected by evacuation orders will continue as conditions allow."
There are 4,271 personnel fighting the Carr fire. Also on the fire are 369 engines, 17 helicopters and 84 water tenders.
The Carr wildfire is now considered the sixth-most destructive fire in state history. California's 2017 October and December California wildfires collectively caused 46 deaths, destroyed more than 10,000 structures and burned in excess of 500,000 acres.
"Several recent academic studies have concluded that wildfire exposure for the Western U.S. has increased in recent years because of drier forests, a longer burning season, and higher average temperatures," the Moody's report states. "After record losses in 2017, California homeowners and commercial property insurers will likely continue to reassess their exposures, pricing and reinsurance arrangements with regard to wildfires."
Related:
Was this article valuable?
Here are more articles you may enjoy.