An angry Flo, an unusually sullen Jake, a less-than cheeky Gecko and a hawkish duck stood outside the National Association of Insurance Commissioners meeting in San Francisco on Thursday in protest to call out the industry for its investments in fossil fuel assets and its coverage of companies and projects that produce carbon.
It's taking a bit of liberty – who was also there, by the way – by emoting some of the insurance industry's most recognized advertising icons.
Flo from Progressive, the Gecko from Geico, Jake from State Farm, The Aflac Duck, The Hartford Deer and Lady Liberty from Liberty Mutual were represented outside at the meeting by staff from environmental and consumer groups.
The protest and the NAIC meeting, the groups noted, were occurring "under a haze of smoke as wildfires" raged across California, which they believe is a hint of what "runaway climate change will look like."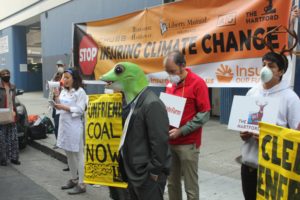 "We're trying to make it real for people," explained Ross Hammond, senior strategist with the Sunrise Project, one of the activist groups that organized the protest. Consumer Watchdog, the Rainforest Action Network and Insure Our Future were other groups involved.
The push to get insurers to divest from fossil fuels and stop insuring companies and projects that produce carbon or that support the carbon economy is far from new.
Numerous large insurers in Europe have pledged to divest from fossil fuel assets, stop insuring projects and companies that generate carbon, or both. The Allianz Group has said it plans to have phased out both its proprietary investments in coal-based business and its insurance coverage of such risks by 2040. Munich Re has also said it will stop investing in bonds and shares of companies that generate more than 30 percent of their sales with coal-related business.
Axa, one of the first insurers to begin divesting from coal, earlier this year warned that private property below ground in places like New York and Mumbai may be uninsurable in the next decade if climate change advances.
Now the groups involved with Thursday's protest want U.S.-based insurers to follow their overseas counterparts, and they say they plan to hold more public protests to exert pressure on U.S. insurers to fall in line.
"This is a public warning shot that next year there's going to be more active campaigns," Hammond said.
Those campaigns are actually already well underway. The groups behind Thursday's protest have already called out the U.S. insurance industry as a "major contributor to climate change" for investments in fossil fuel companies.
The groups have been building a track record of success so far, at least in encouraging public entities to take a stand on carbon.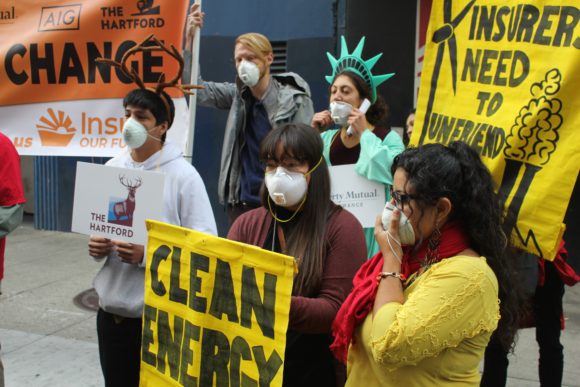 The San Francisco Board of Supervisors became the first U.S. municipal body to try to force insurance companies to stop insuring and investing in fossil fuels with a resolution to urge the city to screen insurers for their investments in coal and tar sands.
And Hammond said they'll work to get more cities to follow suit with San Francisco.
"We're starting to talk to cities and companies around switching their insurers," Hammond said. "There's lots of choices."
According to Hammond, the groups are already in talks with several cities about passing resolutions similar to the one passed by San Francisco, though he declined to name the cities.
"We're going to be looking to replicate that in some of the big U.S. cities," Hammond said. "I'd say more to come on that."
David Kodama, assistant vice president of policy and research analysis for the Property Casualty Insurers Association of America, noted that insurers already have oversight of their investments.
"Insurer investments are highly regulated and monitored by state insurance regulators and rating agencies," Kodama said. "Additionally, insurers are actively engaged, implementing effective catastrophe risk management strategies and mitigation efforts that help policyholders and communities in every region prepare and prevent damage from extreme weather."
The percentage of most large insurers' portfolio investments in fossil fuels may actually be relatively small.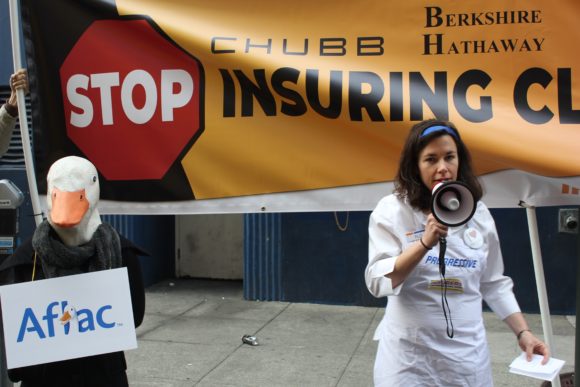 California Insurance Commissioner Dave Jones in May announced the results of a climate-related financial risk stress test and analysis of insurance companies' investments in fossil-fuels. The analysis of insurers in California's insurance market with more than $100 million in annual premiums showed they have more than $500 billion in fossil fuel-related securities, issued by power and energy companies, $10.5 billion of which consists of investments in thermal coal enterprises, according to the analysis.
By comparison there are more than $5 trillion in assets held by insurers operating in California.
Hammond agreed that's small a percentage in a large collective portfolio of investments, but he believes that should make it all the easier for insurers to divest.
"I'm not aware of an insurance company that has more than 4 or 5 percent of fossil fuels as their portfolio," Hammond said. "So from a fiduciary perspective and from a moral perspective they should do it. That's certainly what we're hoping. And we're hoping that this pressure will yield results."
Past columns:
Topics California Carriers USA Energy Oil Gas Market Climate Change
Was this article valuable?
Here are more articles you may enjoy.